Shri Shankar Maharaj
From Hindupedia, the Hindu Encyclopedia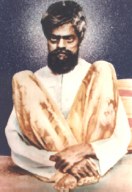 Shankar Maharaj was a Perfect Master in the tradition of Nath Siddha. Different stories are told about the birth and early life of Shankar Maharaj. But the following story of his birth and initiation by his guru appears to be most authentic, having been told by Maharaj himself to his prime disciple Dr. Nagesh Dhaneshwar of Nagar, about 200 kms from Pune.
Once Dr. Dhaneshwar asked Maharaj his age. Instead of answering, he asked him to judge his age from physical examination since he was a medical doctor.
Dr. Dhaneshwar judged his age to be more than 125 years. Maharaj agreed with him and told him that he was born in about 1800 at Mangalwedha (near Pandharpur) in the family named Upasani.
References
[
edit
]