Somangalam Sri Somanaadheeswarar
From Hindupedia, the Hindu Encyclopedia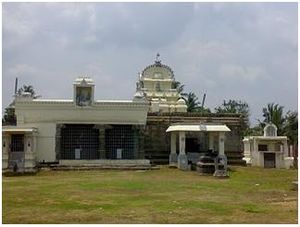 Somangalam is an ancient, beautiful village having a temple for Lord Shiva. The main deity here is Sri Somanaadheeswarar and Goddess Sri Kamakshi Amman.

This temple is one of the Navagraha temples of Chennai (or Thondai Mandalam) devoted to Sri Chandra Bhagavan (Moon God). According to legend, once, Sri Chandra Bhagavan (also called Soman) is said to have been cursed by Dhakshan. As a result, he lost his divine charm and forgot all the 16 forms of arts he had acquired. To come out of this, He is said to have created a pond called Soma Theertham and worshipped Lord Shiva here. After this, he got back his beauty and wisdom. As Sri Soman (Sri Chandra Bhagavan) worshipped the Lord here, Lord Shiva here is called Somanaadheeswarar and the place came to be known as Somangalam.

This temple is a Parihaara Sthalam for those having any Dhosham related to Chandra Bhagavan. Sri Chandra Bhagavan has a separate shrine in the temple, facing west. This temple is said to have been built by Kulothunga Chozha in 1073 AD during his 3rd year of reign. According to inscriptions found here, this place was referred to as 'Jayankonda Chozha Mandalathu Senkaattu Kottathu Maaganoor Naattu Somangalamaana Rajasigaamani Chathurvedhi Mangalam" In those days the places was gifted (tax free) to Vedic Brahmins by the ancient kings and these were known as Chathurvedhi Mangalams.

The inscriptions found in the temple reveal interesting details of the local lake which got damaged and about the repair works undertaken to it. Also, there is information about the donation of cows to the temple to fetch revenue for lighting the lamps in the temple, every evening. There lived a king called Somakaanthan in this part of the country, who wished to build 108 Shiva temples throughout his country. While he was in the middle of the construction work for this temple, he learnt that his enemies were marching towards his territory for war. The king was shocked to hear this,since he was not prepared for a war during that period of time and had engaged all his soldiers in the temple construction work.

With much grief, he prayed to Lord Shiva here to save him. Lord Shiva was pleased with his devotion in constructing the temple, and hence directed Sri Nandhigeswarar to fight against the king's enemies. Nandhi turned towards east and blew away the entire troops of the enemy just with his fiery breath. Thereafter, Lord Shiva made Nandhi to face east permanently to make sure that there were no further attacks to the king's country by enemies. Here one can see Nandhi unusually facing east instead of facing the Lord in the sanctum. This is one of the very unique features of this temple. Ambaal Sri Kamakshi Amman has a separate shrine in the temple, facing south.

Lord Natarajar here is present as Chathura Thaandava Murthy which is again very unique and rarely seen anywhere else. The sanctum is built in Gajabrishta shape or Thoongaanai Maadam type which is popular in Chozha architecture. Such structures would look like the back of a sleeping elephant. Sri Vinayagar, Sri Dhakshinamurthy, Sri Mahavishnu, Sri Brahma, Sri Durgai and Sri Sandigeswarar are seen on the outer walls of the sanctum. The other deities like Sri Valli Devasena Samedha Sri Subramanyar and Sri Bhairavar have separate shrines on the outer praakaaram.

The Sthala Viruksham for this temple is Sarakkonrai Maram (yellow laburnum) which is found on the northern side of the sanctum. There is a small shrine having a small Shiva Lingam below this tree and is called Viruksha Lingam. An image of a tree is carved on stone above this Lingam. A few dilapidated idols are also seen near the Sthala Viruksham. In the southern side of the outer Praakaaram Saptha Maathaas are seen in a row along the walls, in which Sri Jyeshta Devi is also present. Sri Jyeshta Devi is said to be the elder sister of Sri Mahalakshmi, who evolved earlier to Sri Mahalakshmi when the mighty ocean was churned.

The Theertham for this temple is said to be Sandeeswara Theertham, which is believed to be created by Sri Sandigeswarar. Another Theertham is Soma Theertham, which was created by Moon God which is present a little away from the temple. The temple is strictly closed between 12 pm and 4 pm. This beautiful temple surely has lots within itself for temple lovers.
How to Reach
[
edit
]
Somangalam lies about 35 kms south west of Chennai city. One can proceed on the route from Tambaram via Kishkinta to reach Somangalam. The better alternative is to take the road from Pallavaram going to Kunrathur. After reaching Kunrathur junction, one has to take a left turn (towards south) to reach Somangalam. Somangalam is about 10 kms from Kunrathur. Also plenty of busses ply from Porur directly to Somangalam.