Thiruchi Sri Thayumanavar Swamy
From Hindupedia, the Hindu Encyclopedia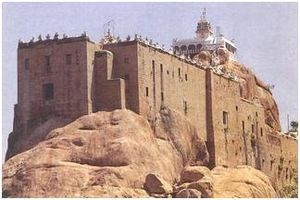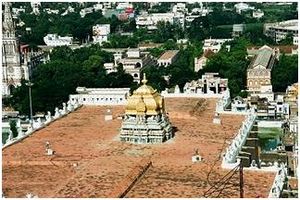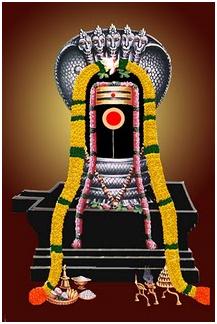 Tiruchirappalli was earlier known as Thirisirapuram, because a Rakshasa called Thirisiran worshipped Lord Shiva here. Legend has it that since there are three peaks on the Rock Fort hill, occupied by three Gods, Shiva, Parvathi & Vinayakar (Uchi Pillaiyar), the place was named Thiri-sikarapuram and later called Tirisirapuram. This place was also known as Sirappalli, Rishabachalam & Dhakshina Kailasam during ancient days. The Rock Fort hill is beleived to be formed hundreds of thousands of years back, according to archeological sources.

According to mythology, once there was a great tussle between Aadhiseshan and the wind God Vaayu, about who was more powerful. Aadhiseshan encircled the Maha Meru hill (Himalaya) and challenged Vaayu to take the Himalayas off his powerful grip. Vaayu tried very much to free them, but to no avail, and eventually accepted his defeat. It is said that during the fight, there had been a lot of natural calamities like floods and cyclones. And three pieces of the mountain broke off and landed in different places. Out of the three pieces that broke off is the Rock fort at Trichy. The other two are at Triconamalee (Ceylon) and Sri Kalahasthi (Andhra Pradesh).
The Temple
[
edit
]
Arulmigu Thayumanavar Swamy temple (also known as 'Chevvandhinadhar') is situated on the Rock Fort enroute to the Uchi Pillaiyar Temple on the hill top, at the heart of the present day city of Trichy. According to legend, there was a woman living on the other side of river Cauvery, who visited this temple everyday. She had been visiting the temple for many years, which she continued to do even during her pregnancy. One day after she finished the Darshan, she found that the river was flooded and impassable. As she waited for the river's flow to subside, she developed a severe labour pain. Since she was in labour, people around stopped her from going back home. But the woman was desperate to go back home to her mother, who was the only person she trusted enough to help her get through the labour pains.

Lord Shiva came to her, disguised as her mother, and helped her deliver the child safely and then disappeared. Later when her actual mother came asking for her, the woman realised that it was Lord Shiva who came to her rescue in disguise. As Lord Shiva himself served her devotee as her mother, here the main diety is called as "Thayumanavar" (God, who is also the "Mother") This incident is also celebrated as a special event called "Chettipenn Maruthuvam" on the fifth day of the Chithirai Festival at the temple. The name of the Ambaal is "Mattuvarkuzhali".

After climbing around 200 steps from foot hill of the "Malaikkottai", one can reach the Thayumanavar temple. The temple is said to have been built during the 3rd century by Pallavas. This temple was occupied by Jain Saints and later was destroyed by Mahendravarman, who then constructed a Shiva Temple in its place. Pregnant women and their husbands pray to Lord Thayumanavar for a safe delivery and offer plantains to the God after delivering healthy baby. One can see people carrying "Vazhaithaar" all the way up to the temple, and after offering to Thayumanavar, they distribute it among other devotees in the temple.

Thirugnana Sambandhar, Thirunavukkarasar, Manickavaasagar and Thayumanavar have written many hymns in praise of Lord Shiva here. Thiruchi is well connected by ample trains and buses from Chennai and other parts of Tamilnadu. Buses also ply from both Central & Chathram bus stands of Trichy. One can alight at Main Guard Gate or Theppakulam to reach the temple.